Donate Today You Can Make A Difference
$5.00
Donate Today You Can Make A Difference
Let's be clear and upfront. We are NOT a registered charitable organization, although our purpose and business is charitable in its function. So, although you may choose to make a donation, and you will be issued a receipt acknowledging that donation—it is NOT an acceptable charitable tax donation receipt.
This donation option is set up to be very easy for you. It starts at $5, but you may donate in any multiple of that $5 to show your financial support of this humanitarian aid ministry.
Not Easy Asking For Your Financial Help
Asking for financial assistance though, has never been easy for Barry and I. Of all the things about operating this humanitarian aid ministry, asking for financial support is the part that makes us most uncomfortable. And we've been doing this since 1999.
Rather than focusing on how to gain the financial resources to help people, we would prefer to just go ahead and address the needs of the community in a timely fashion.
It breaks our hearts to know that we continue to see people sleeping on floors with just a blanket because they have neither a couch nor a bed. If we had the resources, we would be in a better position to have more beds available. For instance, just in January, 2017 there was a small resort about an hour north of us that was doing mattress changeovers. Some 20 mattresses were available. However, not having the $600 needed to hire a moving company to pick them up for us, nor the additional fees necessary to rent a storage unit, we were unable to accept these badly needed beds.
We operate on a very strict financial budget of approximately, $15,000 annually. Our expenses include things like our truck for pick up and delivery of donations, minor things like cable ties for electrical cords of small appliances, to paper for printing the Anti-Poverty Cookbooks, and more.
We DO NOT draw a wage out of this. However because we operate this fully in our home, we can deduct some "use of home and vehicle" expenses. Barry and I personally live on $12,000 a year derived from a small rental income property we own.
We Are Full-time Volunteers
Barry and I assist the community 6 days a week, making flexible appointments, morning, afternoon, and evenings. There are times that my day will begin at 4 am by printing Cookbooks for clients expected later that day. Many times we are both still working until 9:30 at night, whether it be testing small appliances, washing dirty dish donations, assembling cutlery sets, or even sorting out sheets and pillowcases. We work for YOU!
Can You Help Us?
Your financial support will assist us greatly in being able to deliver more timely services to the community. Rather than focusing on the finances, we can just do what we love to do—help people.
But at the end of the day, just like you, there are bills to pay. So even if you can only support us with a $5 donation, you can know that you helped us buy dish soap so several families can have sets of clean dishes and cutlery, or even pots and pans. Perhaps we need to purchase oven mitts for people who've been burned out of their home, or supplies such as elastics to have crib sheets sewn. Your $5 donation is important, and will be greatly multiplied in its impact on the community.
Our Gift Of Gratitude To You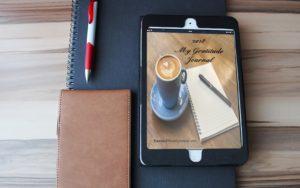 As a special thank you for your donation, you will receive a gift of our gratitude. "My Gratitude Journal". It is 110 pages downloadable, and printable PDF. A resource for you to write down all the things for which you are grateful for. There are 100 suggestions to prompt you on this journey. To see how, not just by your donation gift to us today, but in your own life, you are EMPOWERED towards a HOPE and a FUTURE.
Thank You !!